How to get Verified on Instagram in 2021
How do you get verified on Instagram, you ask?  This is one of the most commonly asked questions amongst those looking to secure the highly coveted blue check mark on Instagram.
Verified accounts are generally thought to be for the rich and famous folks, but Instagram has now made it easier than ever to apply for verification through their app. Of course, this doesn't guarantee that you'll get verified, but it definitely helps start the conversation.
If you're wondering how to get the blue tick on Instagram, keep on reading!
What are the requirements for getting verified on Instagram?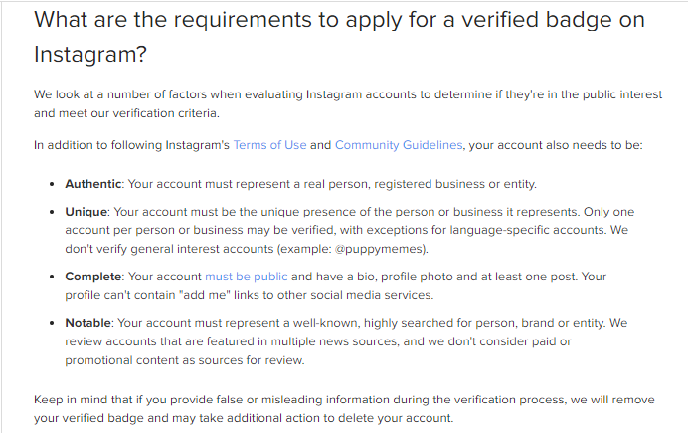 Here are some of the tips you can use to ensure your account has the best chance of getting verified on the app.
Follower count doesn't matter, but having a large following on Instagram certainly helps strengthen your argument. If you're a public figure with a large following, your chances of being impersonated increase. Instagram uses the verification badge to tell users that the account is official and authentic, to help prevent impersonation issues. However, I've seen plenty of artist and musician accounts that were able to get verified without having thousands of followers, so it's definitely possible to do.
Stay active on the app. Instagram encourages creators to actively post on the app, and use the latest tools that they provide to further boost your engagement on the app. Instagram is more likely to verify accounts that are actively posting Reels.
Be verified on other social media platforms. This is definitely not a requirement to get verified on Instagram, but if you're verified on other social networks, than it will definitely increase your chances of Instagram approving your verification application.
Have press coverage / article features discussing you or your brand. This is by far the best way to demonstrate that you're a credible figure that should have a blue check on the app. If you happened to get featured on some of the most popular websites around the web, such as Entrepreneur, Forbes, Huffington Post, etc, these articles will appear at the top of the search engine pages for branded searches. When Instagram employees determine whether or not an account should be verified, they check to see if you have media coverage around the web. This helps illustrate that you're a notable public figure that has a risk of being impersonated on the app.
Don't use any automation or third party apps. Not only is using third party apps a great way to get action blocked on Instagram, but you'll also put your account in risk of getting disabled. Instagram doesn't want you using automated tools to grow your account. If they conclude that you're doing something to break their rules, they might decide not to verify you.
Don't try to buy verification through someone claiming to sell verified badges. If Instagram finds out that you tried to purchase verification, or are partaking in any activities that go against their terms of service, you will not be verified and your account can be disabled for violating their terms of service.
How can you apply to get verified on Instagram?
It's important to note that you can only request verification through the Instagram app. When you feel that you're ready to apply, all you have to do is head to your settings through the app.
Under settings search for the account option.
Towards the bottom of the list, you should see an option to request verification.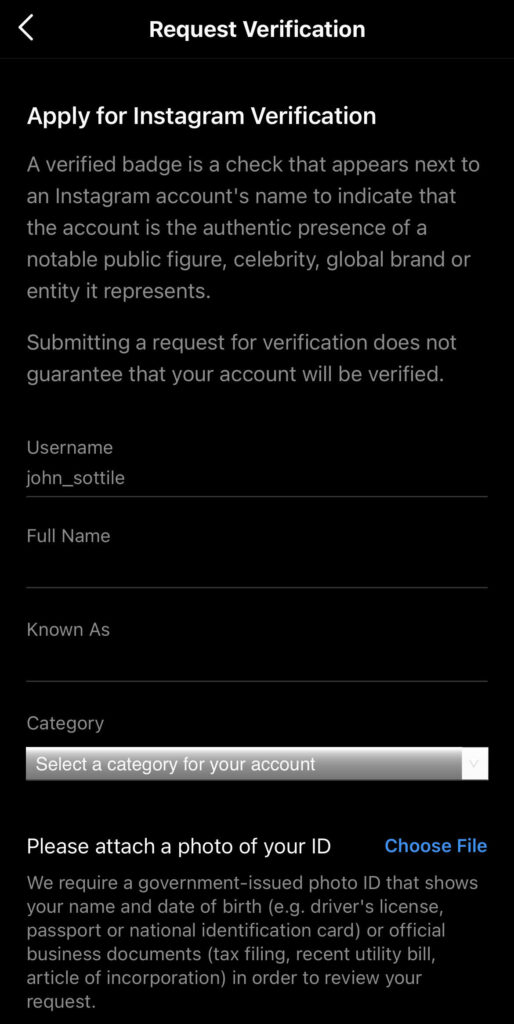 You'll be greeted with a form that allows you to input information about your identity, such as your full name, and what you're known around the web. They also require you to submit a government issued ID, such as a driver's license or passport.
After you apply for verification, someone from the Instagram team will review your application. It can take up to thirty days to hear back from them. You'll get a notification in your activity tab that will let you know whether or not your application was approved. If it was, congratulations! You now have the highly coveted blue check that everyone wants to have. If your application doesn't get approved, there's no need to get too upset. You can continue to apply once every 30 days. Keep investing your time into building your brand. The more articles and engagement you build up, the more likely it is that they'll come around and verify you eventually.