Online Marketing – What is it?
What is online marketing?
Online marketing involves using the internet and social networks to reach your audience and promote your goods and services digitally.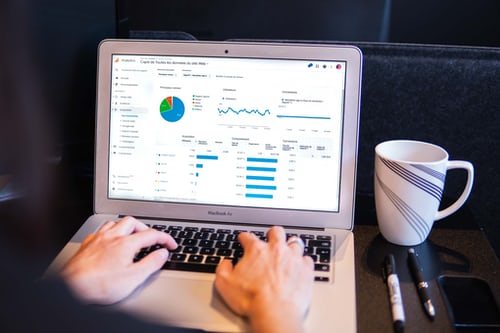 About Online Marketing
Online marketing is essentially digital advertising. There are numerous digital marketing strategies and tactics you can use to promote your business or brand online. With billions of people connected to the internet daily, marketing your business online should be a no-brainer. Advertising online also allows you to track your progress with analytics. You can use analytics to determine your targeting, how your content is performing, and how you can improve your sign-ups and conversion rate.
Let's go over some of the online marketing methods you can use to grow your traffic.
Content Marketing
Content marketing is when you produce informational, educational, or entertaining content that you can use to advertise your business. In the early days of online marketing, having a website and blog was enough to get you ranking your website. Nowadays, it's a little bit trickier than that, but no worries. You'll still want to continue blogging, as blog posts are a great way to increase your visibility on search engines such as Google. To get the most out of your blog posts, you'll want to figure out the best way to distribute your content.
Video marketing is proving to be one of the most powerful ways to attract attention and drive awareness. As TikTok continues to dominate the top of the app charts, the rest of the social media platforms such as YouTube, FaceBook, and Instagram, are all working on their own short form video platforms too. Take advantage of the organic reach that these distribution platforms will provide for your videos before they start to throttle the reach.
Search Engine Marketing
According to 99firms, 93% of all web traffic comes from search engines. Search engine marketing can include organic traffic from search engine optimization, or Pay-Per-Click advertising through Google Adwords.
PPC advertising allows you to choose which keywords you want to appear for. How does it work? You pay Google to bid on your target keywords. With a good keyword research strategy, you can figure out the most effective keywords to spend your dollars on. Ideally, you'll want to find the keywords that help drive the most traffic and convert them into paying customers. Targeting the wrong keywords will end up wasting your marketing dollars fast.
SEO works a little differently. While you may need to invest money into an SEO service or consultant, the benefits are definitely worth it. Afterall, the traffic you receive from organic results is considered "free" traffic. Your rankings will ultimately depend on the quality of your website and the consistency of the content you publish. Having an active blog allows you to target more keywords and capture a wider audience. Google providers webmasters with free tools such as Google Analytics and Google Search Console, which will provide you with the analytics you need to monitor your progress and decide your next course of action.
E-mail Marketing
E-mail marketing, like blogging, is one of the more traditional methods of online marketing. E-mail marketing is an effective way to market to new and existing customers. When people willingly opt into your e-mail list, they're essentially signing up to be notified when your newest piece of content comes up. E-mail marketing can also help you strengthen the relationship between your brand and your customers by providing discounts for signing up. You can even get even more personal and offer birthday and holiday discounts for your e-mail signups.
Social Media
It's no secret that social media has changed the world and the way we interact with one another. While social media was thought to be another marketing fad, it's proved that it's here to stay. Big brands and businesses are leveraging the reach that these social media platforms provide. With millions of people using social media daily, why wouldn't you want to make sure that your company is active on social platforms? At this point, it can be damaging for a business to not use social media, as consumers now expect brands to be on social media. In fact, social media is actually considered one of the best customer support tools. Brands are creating support accounts that are dedicated to assisting customers with their questions and problems.
You can also use social media to monitor what people are saying about your brand. You can track brand mentions with software. Additionally, if you're too busy to post content on your own, you can consider using a social media scheduler to post on your behalf. While it's recommended that your posting is done manually, keeping an automated scheduler is a great way to keep your audience engaged if you really don't have time to post or hire a social media manager to do it on your behalf.
Additionally, social media advertising is still one of the most cost-effective ways to reach a large amount of people on a friendly budget. Most platforms typically offer a resource center that provide you with assistance and training that you can use to get the most out of your social media strategy. After all, you wouldn't want to blindly spend your money on digital ads due to poor targeting.
Conclusion on Online Marketing
Online marketing has changed the way that brands big and small can advertise and reach new customers. As millions of people continue to sign up for new social media accounts every day, those numbers are only going to continue to rise. Have you considered learning more about online marketing yet?
The internet has created a new digital field where small brands have a chance to compete and command attention. While having a large budget will certainly assist in scaling your efforts, having the right online marketing strategy will help you maximize your earnings. Digital marketing has the power to help you drive brand awareness and scale to new heights. How are you using the internet to market online?
Additional Resources:
Important Instagram Statistics You Need to Know
Why Switch to an Instagram Business Profile